What makes players play a game and stick with it? Two key components of player motivation, immersion and achievement, as classiffed by Yee in 2006 are for the most part happening inside the game. The social component however, in the case of indie games, takes place somewhere else . This article aims at clarifying where and how indie developers of multiplayer games should get in touch with their playerbase and how they can increase the perceived value of their games by building an audience of loyal players.
In 2019 more video games for PC were published on the video games distribution service Steam than ever before. Most of these games were developed and published by so called indie developers (see Figure 1 and 2).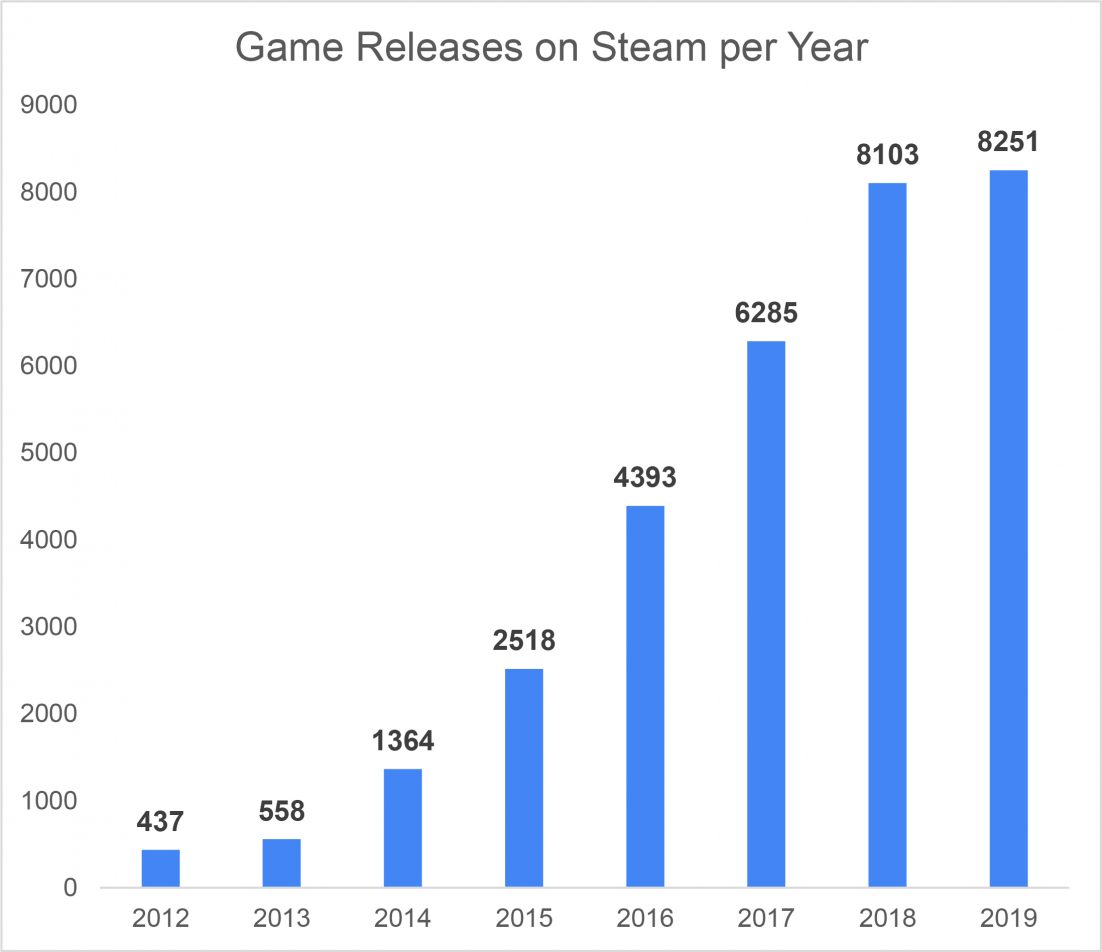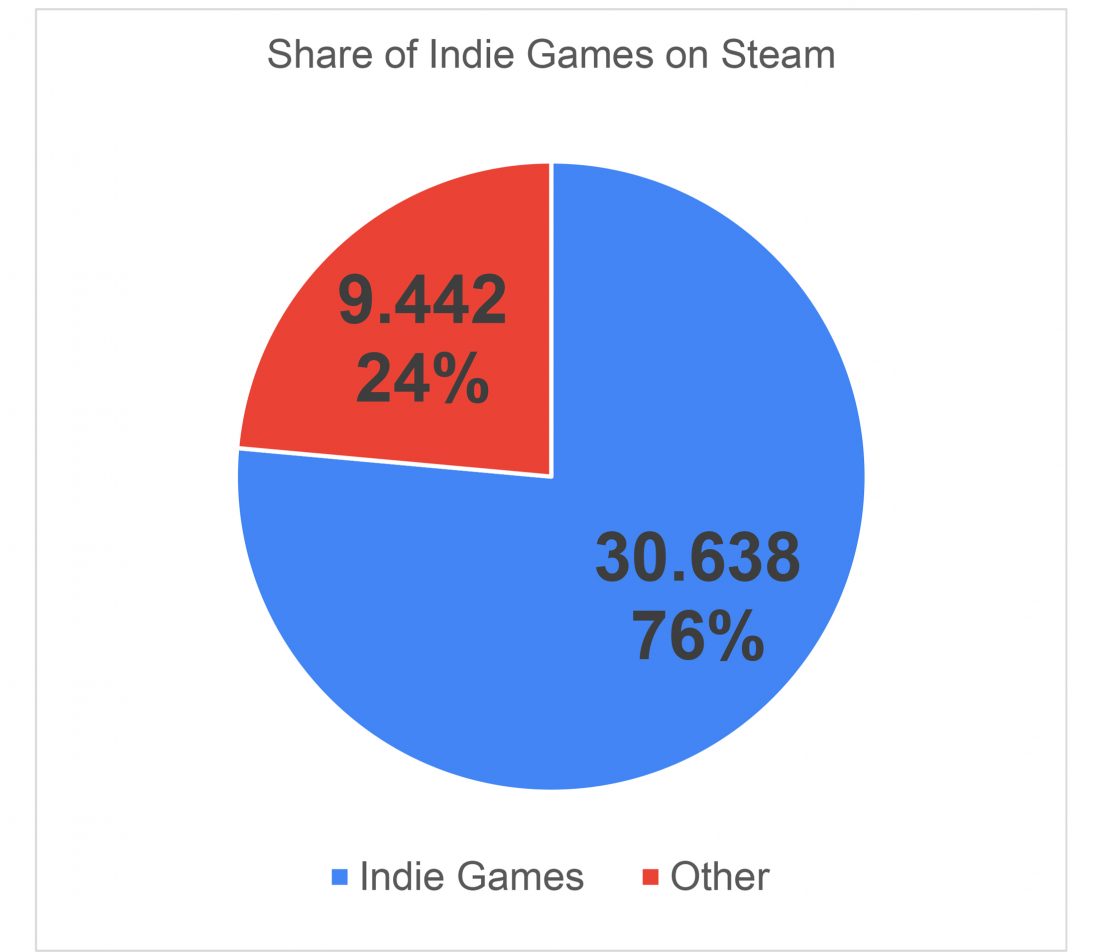 The opportunity for indie developers to reach a broader audience via the established userbase of Steam also comes with challenges. Because of high competitive pressure indie developers nowadays have to take a more holistic approach to game development. Merely creating a good game is not enough anymore to gain attention. The addition of thousands of new games per year means that Steam users have to consider carefully which games they value enough to spend money on. A competing game serving the same niche genre always exists. Having a vivid, growing community therefore crucially leverages the value of a multiplayer game in the eyes of potential new customers. This underlines the importance of Audience Building especially for indie developers.
Indie Multiplayer Games
Figure 1 shows the drastic increase in game releases on Steam over the last years. The increasing number of games has an additionaly hard effect on multiplayer games.This stems from the fact that without an adequate playerbase a multiplayer game can not be played by any individual player. Without such a playerbase to start with the acquisition of new players becomes even harder. Direct network effects similiar to those of services with platform based business models are at work. This means that with every new player a multiplayer game becomes more attractive to other potentially new players thus enabling a self-enforcing cycle. Additionally the multiplayer game scene is often trend driven with games having short lifecycles. Many games experience a strong hype after which the player numbers fall very quickly.
The Critical Mass
It is of substantial importance for multiplayer games to have a certain amount of players online at any time. This amount is often referred to as critical mass. When a critical mass of active players is reached the community revenue has the potential to grow exponentially through direct network effects. The number of concurrent active players that is needed to reach the critical mass depends on metrics such as lobby size (how many players are needed to start a game round?) and game round duration (how long does a game round take?) and therefore diers from game to game. Having a critical mass of players means that any new player starting the game at any point in time can always be matched with other players in a timely manner. This ensures player satisfaction. Not having enough players devalues the game signifcantly as players will become frustrated by not nding any opponents or teammates. This leads to a bad customer experience and players refunding their game.
How to reach gamers
To answer this question 50 different indie multiplayer games on Steam were sampled for their approaches to audience building. The list might not be ultimately exhaustive but it became clear that game creators defnitely use a range of diferent communicationcentered aswell as product-centered devices to draw attention to their games. A list of the discovered measures can be found in Figure 3. Activities concerning communication with the players are happening on many diferent channels some of whom are used more frequently than others as is visible in Figure 4. Also some channels serve a different purpose than others. Discord is mainly used for player-to-player communication and troubleshooting. Players can help other players if they encounter problems with the game and also look for new teammates to play with. No other channel allows for a more intense and direct type of communication. This has an impact on perceived cohesion of the community and therefore Discord is of enormous value especially for the core fans.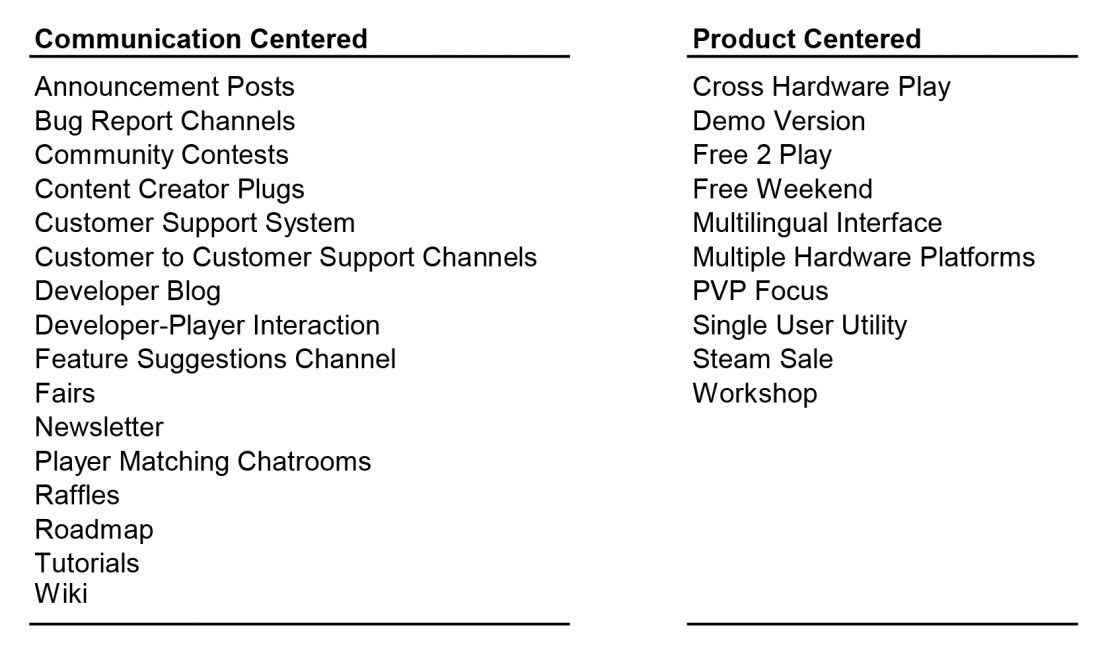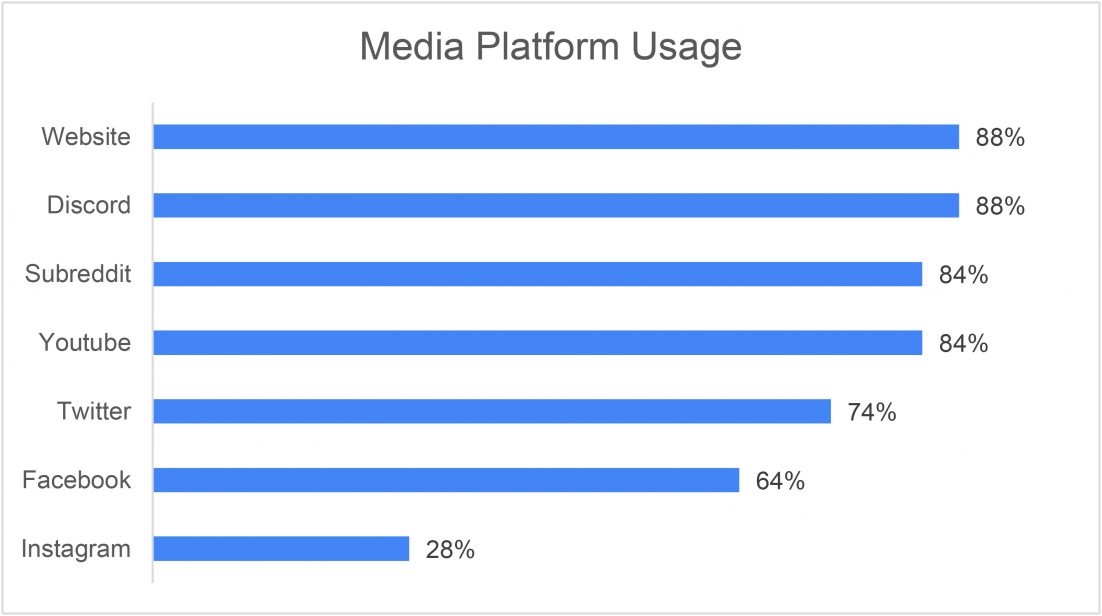 A website is mostly used to distribute general information and press kits to interested players or journalists. Classic social media platforms are generelly not used as often with Instagram being used by not even a third of game developers. Twitter leads the charge here. The reason for that is that gamers like Twitter and so do game developers who try to connect with their fanbase.
Focus your presence
The sampled data shows that even successful indie games do not use every type of interaction with the playerbase (see Figure 5). 26 different measures of audience building were discovered yet most game creators use 7 – 19 of these. A well maintained presence on every social media platform with originial and unique content plus a constant developer-player interaction would be ideal. Yet most indie developers simply do not have the required resources to do so. And while taking measures to build and audience is very important, so is developing an appealing game that people like and will return to. Instead indie developer should focus on proactively creating hubs for their community to grow and grow together. Dev Blogs, Discord Community Servers and Community Contests are more prevalent and might be more effcient at gathering the playerbase. In that way they might present more value to potential new customers than for example Facebook and Instagram posts.

Beiträge die dich auch interessieren könnten: